Discover Scuba at Coki Beach (St. Thomas, US Virgin Islands)
April 10, 2014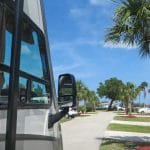 RV Park: Pelican's Landing Resort (Sebastian, Florida)
May 1, 2014
We Try a New Adventure Sport - Riverboarding (Falmouth, Jamaica)
---
Port Excursion
Horseback Ride 'n' Swim & River Combo
More Info
Timezone: Jamaica (UTC-5) 1 hr. behind cruise ship time (EST)
---
What is Riverboarding?
"Riverboarding is a whitewater activity that is basically like bodyboarding meets whitewater, but on a beefier, more buoyant board. Riverboarders lay on their stomachs on their boards and wear a helmet, PFD, wetsuit appropriate to the temperature, pads, and fins." –Kevin Yount, Appalachian Riverboard Company
Our Amazing Race day in Jamaica
Why Amazing Race? It was filled with fun adventures in a new place while having the adrenaline rush of an "All Aboard!" deadline of our cruise ship… which our tour company made too close for comfort! We were the last people to board the ship.
This port excursion that combined 2 tour activities for the day was supposed to be a 4.5 hour adventure. Due to lack of time management on the vendor's staff, we were literally running to the cruise ship. 4:30pm (EST) was when the ship disembarked and we were still in the van blocks away from the port gate at 4:13pm (EST). Arriving at the port gate, we saw Port Security with keys in hand, closing the parking lot gate. Will never forget her face:
Tip for Future Cruisers
I would still recommend Braco Stables as the activities themselves were fantastic and they were very apologetic about our rushed experience…giving us a portion of our money back. But for future cruisers… (a) pick a port excursion guaranteed by Royal Caribbean (b) only choose 1 activity and *not* a combo from Braco Stables.
---