Our Inspiration Comes From...
---
Always wondering where to wander next.
---
Meet the Motorhomes
---
In 2013, we purchased a 2010 Gulf Stream Montaj 29H to go full-time on an RV Trip of a Lifetime (that lasted a year and a half). As of 2020, we now happily explore with our 2018 Winnebago Sunstar LX 27N on a part-time basis.
---

---
Ahoy on the Swell Life
---
In 2015, while living in West Oahu, we purchased our 1st boat - 1992 Four Winns 207 Quest CC* and upgraded to a 2016 Mako 204 CC* a year later to continue to enjoy the vitamin sea.
*CC for center console
---
---
Scooting on the Side by Side
---
Lately, we've been getting our adrenaline kicks with our Polaris RZRs XP 1000 2-seaters. It's been so wonderful to explore off-road trails —through woods, twisty paths, steep dunes, powdery sand, hillsides, mountain terrain, rock crawls or muddy paths... I think half our neighbors owns at least one UTV.
---
Bill
Jack of All Trades & Dreamer
---
San Diegan. Virgo. 5'7"
Maya
Lifelong Learner & Adventurer
---
Texan. Pisces. 5'2"
The Meet Cute of Maya and Bill.
---
Rewind ⏮️ to 2007: on a typical, sunny San Diego day, Maya paddled out to a new surf break covered head-to-toe wearing a 4/3 wetsuit, hat, booties, and gloves while floating in the channel. Bill paddled over... toughing out the 64 to 66F water temperature in board shorts, as he welcomed Maya to the lineup… The friendship started there.
Fast forward to 2009: the majority of life together had been spent in Oahu... from living in Waikiki to Makaha... about 10 years on the island.
We started with different jobs, in Hawaii, but ended up both working as Expedia Local Experts - helping plan and organize tours & activities for tourists. Bill was nominated for 🏆 "Concierge of the Year 2011" and I was nominated 🏆 "Concierge of the Year 2012", to boot! It was a great opportunity to learn more about the Hawaiian islands and experience $25,249.38 worth of tours and activities combined! Not too shabby for 2 years of selling leisure, adventure, and fun for a living. How could this experience not ignite our curiosity to travel?!
As of 2019, we were calling Arizona our home base but through a miracle, we moved back to Oahu in 2022.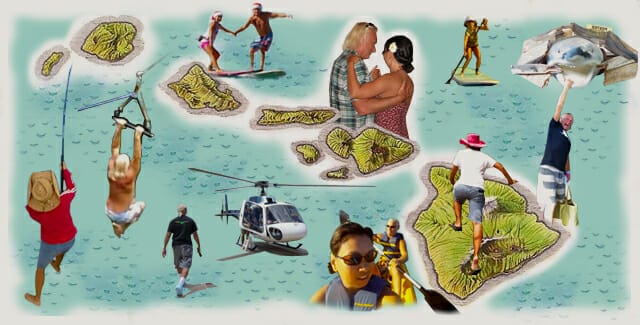 The world is a book and those who do not travel read only one page.
-Saint Augustine
Little by little one travels far.
- Unknown
Not All Who Wander
Are Lost