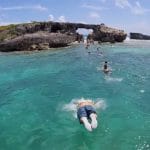 Port Excursion: Eli's Eco Tour with Adventure Antigua
April 12, 2018
Stick-in-the-Muds at St Lucia's Volcanic Mud Bath (Sulphur Springs, St Lucia)
April 13, 2018
Port Excursion: Diamond Falls Botanical Gardens (Soufriere Estate, St. Lucia)
---
Port Excursion
Land and Sea Adventure
More Info
Weather: Mostly Cloudy
Temp: 84°F
Sunrise: 5:53am
Sunset: 6:16pm
---
Last time in St Lucia we went with
Spencer Ambrose Tours
for a challenging 4-mile roundtrip hike up 2,619 feet above sea level on the iconic
Gros Piton
. This time around we wanted to chill. So, we decided to try
Carnival Sailing
and participate in their Full Day Land & Sea Adventure. It allowed us to admire the beautiful mountain scenery from a catamaran on the way to Soufriere Harbor to visit
Diamond Falls Botanical Gardens
to see the 17-meter/56-feet falls that tumble down the mountain from the volcano; get down and dirty at the
La Soufrière Drive-In Volcano
for a mud scrub and soak; lunch at
Fond Doux Plantation Resort
; check out
Marigot Bay
; then, finish off the tour snorkeling.
From the catamaran, we passed the 5-star Jade Mountain Resort which I know from those iconic photos of their infinity pools overlooking the Pitons. It'll only cost $1,000 - $2,500+ per night there. Too rich for my blood. We sailed through some drizzle. We are in the tropics but not to fret... the afternoon cleared up to blue skies.
We arrive at Soufriere Pier... southwest of where we started - the St. Lucia Cruise Ship Terminal in Castries.
Land ahoy! We all are ready for the land tour.
We're transported to the 18th century and experience the gardens as King Louis XIV did. "King Louis XVI of France provided funds in 1784 for the construction of a building with a dozen large stone baths to fortify his troops against the St. Lucian climate… During the Brigand's War, just after the French Revolution, the bathhouse was destroyed. In 1930 André DuBoulay had the site excavated, and two of the original stone baths were restored for his use. Outside baths were added later. For a small fee, you can slip into your swimsuit and soak for 30 minutes in one of the outside pools; a private bath costs slightly more." –Fodors
Love these water droplets on the leaves.
Torch Ginger: the pink flowers are used in decorative arrangements, while the flower buds are an important ingredient in the food of Indonesia.
Castor Oil Tree: This innocent looking little tree bears one of the most deadly poisons known to man, "Ricin." The toxin is made from the castor bean. Twice as deadly as cobra venom, two-tenth of a milligram is a lethal dose. However, once the oil from the bean is boiled and processed, it becomes the harmless "Castor Oil" known to most of us.
Cement-colored Diamond River
How were the lines to take a photo of the waterfall, you ask?
Birding in St. Lucia - Hummingbirds
Although we didn't take advantage of the therapeutic effects of the baths here, we headed to the world's only Drive-in Volcano for a Mud Bath. After our mud bath, we showered off most of the mud, our tour guides said any remaining mud will wash away when we snorkel later that day.
RETURN TRIP CATAMARAN CRUISE BACK TO THE CRUISE PORT
Marigot Bay
"Marigot Bay is a hurricane hole, sheltered in the worst of weather by the steep hillsides that surround its small, deep harbour. Approaching by land or sea, Marigot Bay feels like a secret treasure, and the charming, serene ambiance draws visitors to spend the day exploring..." –StLucia.org
---