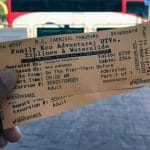 Port Excursion: UTVs, Ziplines, and Waterslide (Puerto Vallarta, Mexico)
March 11, 2020
Hiking: Grapevine Canyon in Search of Petroglyphs
March 25, 2020
Off Roading to the Camaro Trail (Arizona)
---
Weather
Partly Sunny in the mid-70°s
Terrain
Rocky parts but Easy trail
Remoteness:
Surrounded by the Mountains
Nature Encounters:
A drove of burros (including an albino burro).
---
A fun outing with neighbors to Nachyos Bar with a final destination to what we named the Camaro Trail (for the rusty camaro that somehow made it to that spot).
Just enough parking for everyone.
Climbing to the puka (whole in the mountain) to get a different view of the group.
There I am in 2 different spots of the mini mountain.
Bill making sure I don't climb higher or get myself in a pickle.
With our flashlights, we carefully examined this tunnel for burros, snakes, scorpions... all clear. It was about 40-45 feet deep.
How did this Chevy Camaro even get here?
March is our desert bloom. So pretty!
Such a wonderful spot to have lunch with the backdrop of birds singing.
On our return back to the highway, we saw a drove of burros (an albino, too). Always a treat.
---