Norwegian Escape (NCL): 7-Day Eastern Caribbean from Miami, Florida
June 10, 2016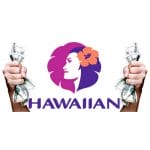 The Ugly Side of Travel – Change Fees by Greedy Hawaiian Airlines
June 23, 2016
Explore Hawaii: Pu'u O Kona via Kuliʻouʻou Ridge Loop Hike
---
---
Kuli'ou'ou Ridge Hike crossing to Pu'u O Kona Trailhead was my most epic Hawaii hike to date! Described by HTMclub as a "strenuous hike, extremely steep, and occasionally narrow and precipitous ridge hike with a few rope sections." What an adventure!
Starting Point: Park at the end of the neighborhood on the street called Kala'au Place
Distance, Duration and Difficulty: Described as a hike with Intermediate and Advanced sections, it was about 4.7 to 4.9 Miles that took about 6 Hours w/breaks to enjoy the scenery, snacks and lunch
Challenges: Switchbacks, Steep scrambles with loose dirt, Overgrown vegetation, Narrow ridges with steep dropoffs, Rock scrambling, Ropes installed for assistance
Sights: Helicopter views… almost 360˚ views of the island — from the backside of Olomana, Makapu'u, Mokes, K-Bay, Three Peaks, Koko Head, Diamond Head, Honolulu…
Fitness Steps: I logged about 18,709 steps
It was windy and rainfall could be seen at a distance so only Grant O., Sherry C., Mary D. and myself continued to Pu'u O Kona Trailhead (2,202 ft) from Kuli'ou'ou Ridge Summit (2,028ft). I installed my Hillsound Trail Crampons (Affiliate Link) which is highly recommended as these also an extra velcro strap for a secure fit. There may be some muddy, slippery spots on the ridge especially if there has been recent rainfall.
Life in Oahu: Adventure at Every Ridge