Drive to Whistler: Squamish Logger
September 21, 2012
Biking around Stanley Park Seawall (Vancouver, BC)
September 22, 2012
---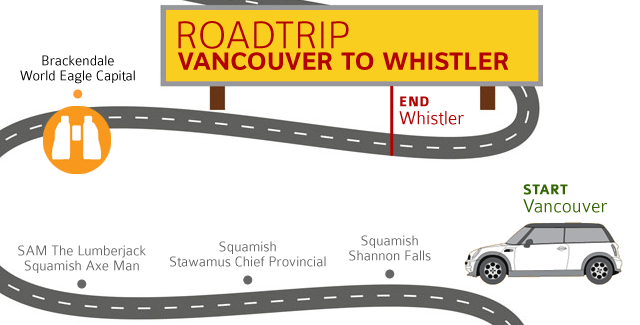 In Canada a few days early before we hop aboard Princess Cruises. Today, we are enjoying a scenic road trip from Vancouver, B.C. to Whistler stopping at:
Now, our 4th stop to look for eagles in Brackendale - World's Eagle Capital. After this last rest stop, we'll be non-stop to Whistler.
BALD EAGLE WATCHING
"Peak season for bird watching and spotting eagles are between December and January." –HelloBC.com
We're here in September and locals say they're everywhere. One hiccup... Uh, we don't know how to spot bald eagles. We had binoculars and hung out for 30 minutes or so panning the horizon line of trees. No bald eagles but still such a peaceful, beautiful spot. Don't you think?
"The main Eagle Run Park viewing facility is located on the municipal dyke, across from the Easter Seal Camp on Government Road in Brackendale. Exit Highway 99 at Mamquam Road and head north on Government Road to the bald eagle viewing area... In the 1994 bird count, Squamish had the world record count of 3,769 eagles." – Tourism Squamish
---
error: Content is protected !!