Pinnacle Hotel at the Pier: Health & Fitness Center (North Vancouver, BC)
September 20, 2012
Drive to Whistler: Squamish – Stawamus Chief Provincial Park's Rock Climbers
September 21, 2012
Drive to Whistler: Quick Stop at Shannon Falls, Squamish, BC
---
---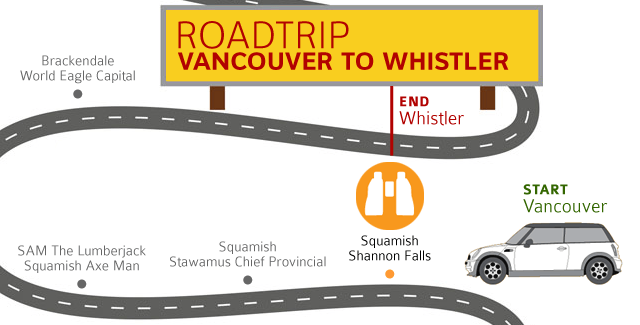 In Canada a few days early before we hop aboard Princess Cruises. Today, we are enjoying a scenic road trip from Vancouver, B.C. to Whistler stopping at:
Our 1st stop to look to get energized around a waterfall.
About an hour from Vancouver, on the way to Whistler, we take a pit stop at Shannon Falls which is "composed of a series of cliffs, rising 335 metres above Highways 99, making it the third highest falls in the province..." –BC Parks
"The 3rd highest waterfall in British Columbia, Shannon Falls is an amazing sight and popular attraction for travellers driving the Sea To Sky Highway through Squamish, BC." –Vancouver Trails
ROAD TRIP
The national symbol of Canada is the maple leaf which is also shown in their highway systems as route markers. You see bilingual road signs in Squamish and English languages.
This is a photo snapped as we leave Shannon Falls but it shows how easy it is to turn into. You can't miss the exit.
View from the parking lot to the entrance of the park trail. We saw a few RV & Motorhomes parked here, too. The park is located just off of Highway 99, 58 km north of Vancouver and 2 km south of Squamish making it a popular day-use park for picnicking and hiking.
The complete distance of the Shannon Falls trail is 7.5km with an elevation gain of 470 meters. It would probably take an average of 5 hours which didn't have time for. We took a brisk walk up a gravel trail to the view of Shannon Falls as the water cascades over the cliff. We even witnessed a proposal. *** Take note romantic men out there!!! *** She said "Yes!" Bill stays a good distance to give them space (don't mind me).
"The tumbling waters of Shannon Falls originate from Mount Habrich and Mount Sky Pilot." –BC Parks
This park is so green and spacious (~87 hectares).
---