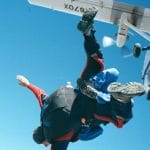 First Time: Skydiving (San Diego, CA)
January 1, 2001
Swimming with Dolphins Encounter – Dolphin Quest Hawaii (Oahu)
June 10, 2009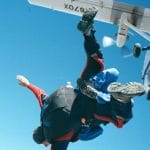 First Time: Skydiving (San Diego, CA)
January 1, 2001
Swimming with Dolphins Encounter – Dolphin Quest Hawaii (Oahu)
June 10, 2009
Touring the Island of Oahu by Motorcycle
---
---
We rented motorcycles and started the ride from Waikiki.
Our plan is to head East to the Windward side and up to the Northshore and back down to town.
It's so nice to easily pull off the road for the views like we did hear near Diamond Head.
We wanted to make a U-turn and I couldn't quite make it... Lol... Don't worry, I'm not speeding on the sidewalk. No cars were around (quiet neighborhood)... just walking the motorcycle back to the road. My bad (*giggles)!
We are in Waimanalo and you can see the paragliders up in the sky. There the beach or the various gift shops and cafes to stop and stretch your legs.
How dreamy it would be to own a house with these type of views. While in Kailua, we explore the neighborhoods and find a public beach access to have a view of the "Mokes" (Moku Nui & Moku Iki).
Jumping back on Kamehameha Highway… we head towards the Koolau mountains.
Here we watching a few boulder jumpers at Waimea Bay. Would you climb it and take the leap?
Overall, a really memorable tour around the island.
---