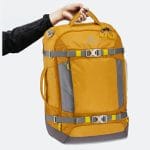 Carry-On Only Packing List for South Africa and Victoria Falls
May 5, 2014
Review: (Airbnb) Avida San Lorenzo Tower Studio in Makati, Philippines
December 7, 2014
Things to Do: Beginner Hang Gliding Lessons (Nags Head, NC)
---
---
On the Sand Dunes of Jockey's Ridge State Park
328th day RVing and we're in and around the Outer Banks of North Carolina. Researching things to do in the area, hang gliding lessons was listed. Felt Wright at home with this adventure where "The Wright brothers… generally credited with inventing, building, and flying the world's first successful airplane." Quite honestly, learning hang gliding seems equal to the perspective of a paper airplane or how it feel to actually be the kite. LOL. Overall, if we had more time in the area, I would have signed up for their week long Hang 1 Camp but their 5 flights package was really fun.
Beginner Lesson Pricing
$99 / 3 Flights to $109 / 5 Flights
Address
302 Carolista Drive, MP 12
Nags Head, NC 27959
WHAT TO BRING FOR THE HANG GLIDING LESSON
Sunscreen - gets hot on sand
Comfortable Clothing - many wore shorts but I wore jeans. in hindsight, I'd go with long pants but not necessarily jeans on this hot September day.
Proper Footwear - if you have tough feet for hot sand, then go barefoot. I wore sneakers.
Camera - of course, but they also have a GoPro package too!
---
HANG GLIDING LESSON 101: 5 FLIGHTS
Let's do this! I put on my invisible adventure cape and my visible long pants (to save my legs for any... most likely... case where I could be dragged on that hot sand) to get this activity off my bucket list. Checked in and was handed hang gliding equipment.
A nice stroll to the top of the sand dune.
TIME TO PAY ATTENTION TO THE LESSON
FIRST TO VOLUNTEER
---
VIDEO HIGHLIGHTS: HANG GLIDING LESSON
---
Am I Ready for a Solo Hang Gliding Flight?
Absolutely not! I can't imagine a solo flight jumping off Lookout Mountain found in Georgia. Maybe a tandem flight?!

Photo Credit: Mapio
---