2013 Our First RV Show (Houston, Texas)
February 7, 2013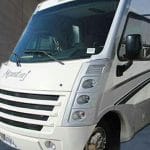 First Time: Purchased a 2010 Gulf Stream Montaj 29H
February 27, 2013
Test Drive: Brompton Folding Bike
---
QUESTION: What's your favorite bicycle brand / type and why (mountain, street, folding, electric…)?
Mention @JustWanderMaya and hashtag your photo with #JustWanderWithUs
---
Before purchasing a custom Brompton folding bike, a test drive is in order. Up to this point, all I've done is online research about folding bicycles. There are zero Brompton dealers in Hawaii. So on the same trip to purchase our 2010 Montaj 29H, we visit ElectricBikesLA.
A perfect location for a quick bike ride - quaint town, not so much traffic, small inclines and a nearby park.
I was practicing changing gears.
Doesn't take much to steer. With thin tires, I make sure to go slow downhill. I am not much of a cyclist so enjoy slow cruising and pedal for views.
The Brompton weighs anywhere from 20-28lbs.
How Fast Can You Fold A Brompton?
Now for folding this elegant, nicely engineered bike... Can you believe they have Brompton Folding Contests (an amazing 7.19 seconds)! I'll need a lot more practice.
Look how compact the Bromptons are that the store was able to hang quite a few on their wall to display.
Made-to-Order Brompton
Custom Brompton Ordered! Will have to pick it up next time I'm in Los Angeles and ElectricBikesLA will store it in the meantime.
---