Biking around Stanley Park Seawall (Vancouver, BC)
September 22, 2012
HIKING: Mauanawili Falls Trail – Jungle, Views, Exercise, and Waterfalls
January 23, 2013
Hyatt Regency Maui Resort And Spa
---
---
Good morning from Room 2216!
Our 1st Stay at Hyatt Regency Maui Resort And Spa
We start our morning at the Swan Court Breakfast - a lavish breakfast buffet in open-air seating with backdrops of waterfalls over lava rocks and swans floating by.
The Hyatt Regency Maui Resort and Westin Maui Resort & Spa share the presence of beautiful pink flamingos, who live among swans and koi fish in the hotel's various ponds. What a treat!
Walk off Breakfast by exploring the Hyatt Regency Maui grounds
Hyatt's Maui hotel is a whopping 40 oceanfront acres on Ka'anapali beach!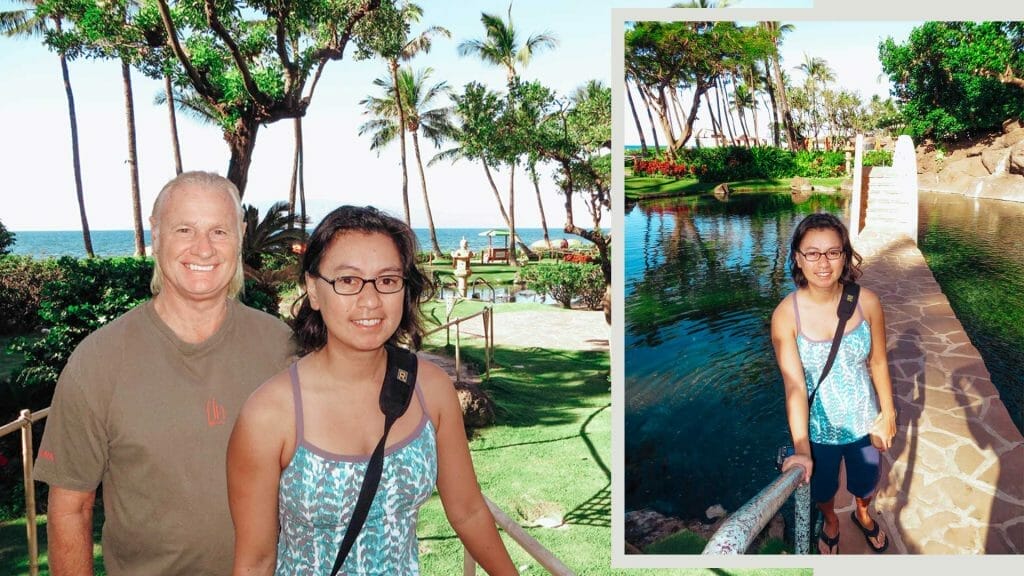 A 150-foot lava tube waterslide, two waterfalls, and a half-acre swimming pool are among the highlights of the resort's water playground, which offers keiki the chance to explore a sand bottom keiki lagoon with its own child-sized slide.
Something unique to check out on the property is Hyatt's Grotto Cave Bar!
Hyatt has an on-site penguin habitat for their resident African-Blacked Footed Penguins. The IUCN's red list of endangered species lists this species of penguin as threatened due to a variety of issues they face in their natural environment. But, despite these difficulties in the wild, they've successfully reproduced, plus reared 6 of the 7 current penguins right on the property. 
The wildlife program at Hyatt Regency Maui includes penguins, cranes, swans, flamingos, and parrots.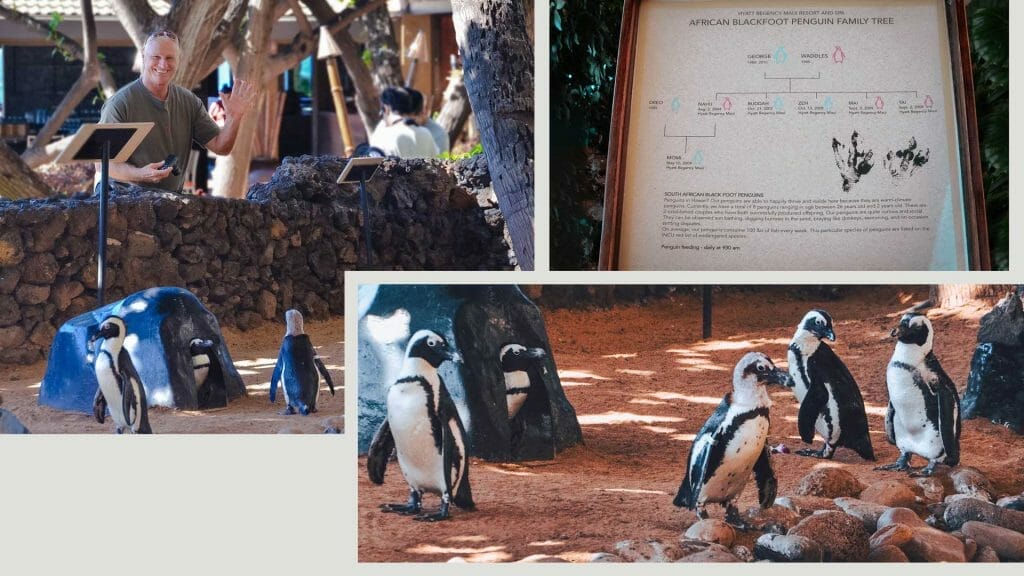 A 16-foot bronze sculpture by John Robinson titled "The Acrobats" can be found on the beachfront across from 'Umalu Restaurant, at Hyatt Regency Maui Resort.
Hyatt Regency Maui Resort & Spa Rates
Trip Planning for Your Stay at the Hyatt Regency
How far is Hyatt Regency Maui from the airport?
About an hour's drive to Kahului Airport
How far from the hotel would there be any major shopping?
The Whalers Village is only a 15-minute walk.
What's the nearest lū'au to enjoy?
Drums of the Pacific Lū'au is Hyatt's luau offering guests a lively evening lū'au with a Hawaiian buffet feast and tiki cocktails.
Where to learn about What's Happening and the Events while on your vacation to Maui?
Visit GoHawaii.com
---