Hyatt Regency Maui Resort And Spa
December 18, 2012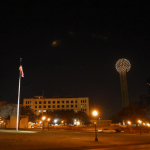 Dallas or Bust: Back to My Hometown after 7+ Years (Garland, Tx)
February 4, 2013
HIKING: Mauanawili Falls Trail - Jungle, Views, Exercise, and Waterfalls
---
---
Started off in the residential neighborhood off the Pali Highway.
In the jungle canopy of Maunawili Valley, we were walking over somewhat slippery tree roots and hopping rocks/boulders while crossing the streams. Muddy, muddy, muddy terrain… even the set of stairs for an uphill climb.
After the stairs, we came upon a nice opening in the trees… in the distance… is that Kane'ohe Bay?!
What you may imagine Hawaiian tropical paradise might be - jungle falls! Not the tallest waterfall at only 20-foot but it is a deep pool of water (10-15 feet). Many seem to cautiously rock climb and dive in for a quick swim.
As with all cliff jumping, use caution and common sense, you are jumping at your own risk. Never dive head first. Don't enter the water with any open wounds (...recalling an earlier sign posting the possibility of leptospirosis contamination).
If not to swim and cool off, we use this time for a nice picnic… practicing - leave no trace, of course.
Missed out on the old bridge and moss slides. Next time.
CLOSURE UPDATE: LONG-TERM CLOSURE: As of July 2021, access to Maunawili Falls through the Maunawili neighborhood is temporarily closed for realignment. The project is planned to span over the next 2 years, keeping the trail closed until summer 2023. – AllTrails
---