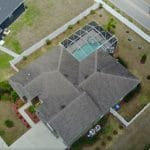 Move-In Day: Home Sweet Home (Tampa, FL)
May 9, 2017
Tampa Bay Buccaneers vs Washington Redskins Football Game
August 31, 2017
Eating at Columbia Restaurant - Tampa's Ybor City
---
---
Our lunch outing takes us to Ybor City (pronounced EE-bore)... the only neighborhood on Florida's west coast to be designated a National Historic Landmark District. This historic Latin quarter and former center of cigar manufacturing includes the famous Columbia Restaurant. Eating there is part of the Ybor City Experience according to Visit Tampa Bay.
Founded in 1905 by Cuban immigrant Casimiro Hernandez, Sr., the Columbia Restaurant is Florida's oldest restaurant℠, and the largest Spanish restaurant in the world.
"The Columbia in historic Ybor City is known not only for its great food, but also for the artwork that fills every room." -Columbia Restaurant
"The Columbia placed its first exterior hand-painted tile in 1973. When third generation owners Cesar and Adela Gonzmart vacationed in Seville, Spain they fell in love with colorful tiles there. In 1978, Cesar spent $160,000 to cover most of the restaurant's exterior with tile from Seville" -Columbia Restaurant
"Tampa's historic Columbia Restaurant would not be what it is without its tiles: thousands of them, hand-painted terra cotta, adorning the walls inside and out. 'They speak volumes about who we are,' says fourth-generation restaurant president Richard Gonzmart. 'When people think the Columbia Restaurant in Tampa, I want them to think Spain.'" -Visit Florida
What's for lunch? They had a big Lunch Menu but I think we tried the Original Cuban Sandwich with a side salad and Paella "Espanola"
---