SUP and Wild Horses on the Salt River (Mesa, AZ)
September 12, 2020
All Terrain Trick or Treat Parade
October 31, 2020
SUP and Wild Horses on the Salt River (Mesa, AZ)
September 12, 2020
All Terrain Trick or Treat Parade
October 31, 2020
Easy Hike: Red Mountain Trail (Flagstaff, AZ)
---
This was a hiker and nature enthusiast kinda trail from its geology to bouldering to bird watching. What do you love about hiking?
Mention @JustWanderMaya and hashtag your photo with #JustWanderWithUs
---
You'll find visiting Flagstaff that you'll be surrounded by mountains, desert and ponderosa pines and known for its San Francisco Peaks, Humphreys Peak (Arizona's tallest mountain at 12,633 feet in elevation) and the Arizona Snowbowl ski resort. Those are the more popular aspects of Flagstaff but we found this gem of a hike within the Coconino National Forest – Red Mountain Trail (GPS).
25 Miles Northwest of Flagstaff
Although, a great side trip when traveling between Flagstaff and the Grand Canyon, we simply were coming from our RV park – Woody Mountain Campground which made the trail 34 miles away to the Red Mountain Trail. Get your Google Maps directions here.
Hiking October Weather in Flagstaff
With a 9:00AM start, it was a lovely 70°F-75°F sunny morning. Sunscreen up! Bring a hat and/or umbrella to provide even more sun protection like I do for this ~2.7 miles roundtrip hike.
We had more of a stroll by parking the Mini Cooper on the outskirts... about 0.25 mile at the beginning of the dirt road that leads to the designated & limited parking space at the trailhead. Ended up being a 3.5 mile roundtrip hike for us.
Easy to Moderately Suitable Hike for Anyone in Flagstaff
You'll be hiking into the inside of the volcanic cinder cone, the mountain itself and to its famous cinnamon-colored amphitheater.
NOTE: There are NO facilities at the trailhead or on this hike. It is a long way to the nearest gas station.
"According to the U.S. Geological Survey, Red Mountain is one of several hundred cinder cones within a large volcanic field that stretches from Williams to the canyon of the Little Colorado River. The centerpiece of this hike is Red Mountain, which erupted about 740,000 years ago. What's unusual about Red Mountain, which rises 1,000 feet above the surrounding landscape, is that its internal structure is exposed — like a massive geode that's been cracked in half. This one-of-a-kind trail takes you into that core, an area known as the amphitheater. The last half-mile of the hike follows a normally dry stream bed. If you look down at the sand, you'll see thousands, even millions, of black shiny granules, some of which are as big as golf balls. These granules are often mistaken for "Apache tears," which are composed of obsidian, the volcanic glass that was highly valued by ancient cultures for crafting arrowheads, knives, scrapers and other tools. But don't be fooled. What you're actually seeing are the crystals of minerals (pyroxene and amphibole) eroded from the volcano." –Arizona Highways
Photographing the Red Mountain Trail
Walking through a piñon-juniper pine forest.
Hiking up to higher ground.
Surrounded by the hoodoos.
Slot canyon and hoodoo scrambling.
Around the amphitheater:
Panoramic views:
And my favorite shot of the day:
---
AERIAL: RED MOUNTAIN TRAIL
Bucketlist Activities & Tours
With in Flagstaff, why not take in a few other tours & activities nearby!
AZ Segway Tours

Duration
2 hours

About
Learn about the rich history of Flagstaff!

Come join us on a Segway tour of Flagstaff. Cover more ground than you would on feet!

Fun, educational, and scenic - an experience for all!

You'll hear the story of how historic Rt. 66 came to be, the history and expansion of the Burlington Northern Santa Fe Railroad, as well as the many trails that make up the Flagstaff Urban Trail System which meanders throughout the town. Great for history buffs, entrepreneurs, students, travelers and Flagstaff enthusiasts!!
AZ Segway Tours

Duration
2 hours

About
A Spooky Adventure in Flagstaff!

Cover more ground than you would on feet!

Along with historical sites, the guide will show you scenes of altercations and experiences which have resulted in numerous reports of suspicious activity!

You will hear about the original pioneers of Flagstaff and their struggle to build a civilized city on the border of the frontier!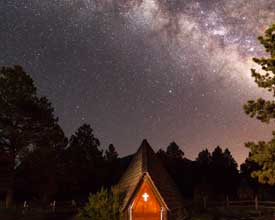 Southwest Conservation Adventuress

Duration
2 hours

About
The Ultimate stargazing and astrophotography tour

Join us for a once-in-a-lifetime stargazing experience in Flagstaff, AZ! Our stargazing tour combines cutting-edge technology with a love for the night sky to offer you a truly unique and unforgettable experience. With the use of Stellina, a mobile astrophotography machine, and an 8" Celestron 8SE telescope, you'll have the opportunity to explore the cosmos like never before.