RV Park: Monte Vista RV Resort (Mesa, Arizona)
November 15, 2013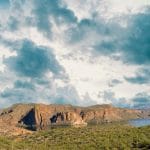 Porta Bote Adventure at Canyon Lake (Tonto National Forest, Arizona)
November 19, 2013
Scenic Drive: The Apache Trail Scenic Byway (Apache Junction, Arizona)
---
---
See our Mini Cooper in the distance (lower left of photo)?!
If you check out Yelp or TripAdvisor, taking this road trip near the Phoenix area is highly recommended as it has "incredible view of canyons, geologic formations, desert plants and trees, desert and lake views, and wildflowers in season" –About.com Travel.
There's plenty of places to stop along the drive:
Lost Dutchman State Park
Canyon Lake
Tortilla Flats
Superstition Mountain Museum
Goldfield Ghost Town
Apacheland Movie Ranch
OK Corral Stables
Theodore Roosevelt Dam
Dolly Steamboat cruises
Address
The Apache Trail's famous Circle Route (120-mile scenic route) begins and ends in Apache Junction, Arizona.
Weather
Sunny – High 75°F Low 46°F
Apache Trail Scenic Drive
Warning: If you easily get car sick, I would volunteer to drive this route as there's a lot of switchbacks! Hiking to get a few nice pictures of our Apache Trail Scenic Drive… while watching out for snakes!
Superstition Mountain Museum
Elvis Presley Memorial Chapel where he filmed – Charro! (1969)
Catching a stagecoach at the Superstition Mountain Museum
A wonderful, giant saguaro cactus and what it looks like when it dies.
Apacheland
Movie Filmed at Apacheland Movie Land - "Gambler" with Kenny Rogers, Linda Evans and Bruce Boxleitner
Goldfield Ghost Town
Mammoth Steakhouse and Saloon
Views of Superstition Mountain
---