Lunch and a Movie (at the theater)
July 24, 2023
Lunch and a Movie (at the theater)
July 24, 2023
Photos of Likeke Falls Trail - Hike Oahu's Waterfalls
---
Last Updated: November 14, 2023 
Are you looking for an adventure that takes you off the beaten path, away from the concrete jungle of Waikiki, and into the heart of Oahu's beauty? A Likeke Trail hiking adventure is just what you, the kids, and even the family dog need. The waterfalls are tucked away in the Ko'olau Mountains and offer just enough of a challenge for a pure beginner hiker to be a rewarding hike to a stunning two-tiered waterfall. In this blog, we will provide all the information you need to plan your trip including how to get there, what to bring, and essential tips for hiking the trail. We'll also share details about nearby attractions like Pali Lookout, Downtown Kailua, and Lanikai Beach so you can make the most out of your day trip. So pack your bags, lace up your exploring shoes, and get ready for an unforgettable experience!
HIKE TO LIKEKE FALLS - OAHU
Difficulty Level: Easy to Moderate
Elevation Gain: Very minimal (~165ft to ~216 ft)
Short Distance: ~0.6 to ~0.8 miles to the falls round trip
Duration: ~15min to 25min one-way
Highlights: Pretty 30-40ft waterfall, Tree tunnels…
LIKEKE FALLS HIKE HISTORY OF THE TRAIL ON OAHU
Were you aware that the enchanting hiking path known as Likeke Falls was dedicated to and established in 1962 by Richard H. Davis? The trail's name, Likeke, is derived from the Hawaiian word for Richard. Davis, an avid hiker and esteemed member of the Hawaiian Trail and Mountain Club, sadly passed away in 2004 at 84 years old. In an article published by the Honolulu Star-Bulletin, he was affectionately referred to as the "Duke Kahanamoku of hiking on Oahu."
LIKEKE FALLS TRAIL PARKING
Although a slightly longer and more adventurous trail to the falls can be taken on an old road from the Pali Lookout, then under the Pali Highway, leading you through a jungle path to the falls, we'll be highlighting the shorter trail making it a quick visit allowing you to plan other things to do while in the area.
The best place to park for the easy route is only steps away from the trail at a paid, public parking lot provided by Ko'olau Ballrooms & Conference Center *as labeled on Google Maps.
LOCATION & HOURS
Address:
Ko'olau Ballrooms & Conference Center
First Presbyterian Church of Honolulu at Ko'olau
(formerly Ko'olau Golf Club which permanently closed Sept. 30, 2020)
45-550 Kionaole Rd, Kaneohe, HI 96744
 
Parking:
Public Parking was $10 per vehicle for the day
Available from 8am - 4pm
Facilities:
It's important to note that restrooms are not available. So, make sure to plan accordingly before starting your hike.
PROS & CONS
Excellent Reviews:
According to AllTrails, the trail has received 2,849 reviews with an average of 4.4 out of 5.0 stars.

PROS:
• Short Hike where you'll be Engulfed in Nature
• 30ft to 40ft multi-tiered cascading waterfall 
• Wading in the pools is a great way to cool off
• Family-friendly hike: great for young children... (even the dog!)
• Great place for all skill levels
• Friendly hikers

CONS:
• Pay to Park 
• Muddy trail can be very slippery (... especially after heavy rains)
• Terrain includes stepping over roots and rocks to ducking under low-hanging branches
• Very possible to miss the two(2) important turns
• Bring bug spray!
HIKER SAFETY
SAFETY: Try to avoid undue risks. Hiking can be a perilous activity where not every trail suits every individual's capabilities. It is essential to bear in mind your personal fitness level and wear the appropriate shoes with good traction. Be mindful of your own skills while always taking proper precautions when venturing off-road. Additionally, hikers should come prepared with an ample supply of water and snacks to stay hydrated and energized throughout the trek. In Hawaii, all hiking trails present significant hazards demanding hikers exercise utmost caution throughout their journey. The region's scorching humidity, treacherous steep cliffs, and unpredictable flash floods can occur at any given moment requiring extra vigilance. Before attempting any hike in Hawaii, it is crucial to stay updated with local weather conditions and assess the physical condition of your entire group thoroughly.
DISCLAIMER: Kindly note that this blog aims solely at providing information without replacing official advice from managing agencies. I hereby absolve myself from any responsibility for injuries sustained or individuals lost or legal troubles encountered while following the information posted on this blog. Also, enjoying the great outdoors and hiking is at your own risk. Don't blame Mother Nature or the state of Hawaii for your own accidents. 
WHAT SHOULD I BRING TO HIKE LIKEKE FALLS?
Water
Bring plenty of water as it's typically humid. I've found adding (Affiliate Link) Liquid IV Hydration Multiplier - Lemon Lime - Electrolyte Drink Mix to my water helps me prevent my migraines.
Shoes
Athletic sneakers or trail boots with deep, 8mm lugs are the best for wet/muddy terrain. Since I'm recently recovering from shoulder surgery, I've brought along my (Affiliate Link) Hillsound Trail Crampons so I didn't worry about slipping if the trail conditions were muddy. Bring your slippers (aka flip flops) to change into at the waterfall and post hike.
Backpack / Hip Pack
Bill brought his backpack while I prefer my (Affiliate Link) Osprey Packs Tempest 6 Hip Pack. 
Large Ziploc® Bags & Plastic Bags
You can use the Ziploc® bags for any trash after eating your snacks as it's a good idea to have a picnic when you reach the amazing waterfalls. Remember, to Leave No Trace. The plastic bag(s) you can use to sit on and not get your bottoms muddy. Plus, when you return to your car, you can put your dirty shoes in them.
Snacks
We typically do early morning hikes before we've had breakfast. My favorite snacks include (Affiliate Link) Lorissa's Kitchen Korean BBQ, (Affiliate Link) NOKA Superfood Pouches, (Affiliate Link) Festival Coconut Water with pulp, and (Affiliate Link) Power Up High Energy Trail Mix.
Swimwear
If you see yourself leaning back against the falls or sitting in the pool of cool water, best to wear your swimwear underneath your hike clothes.
Mosquito Repellent
Do bugs love you like they love me? If so, when it comes to hiking in the jungle rainforest trails, you'll have a much more pleasant hike if you wear BugsAway insect-repellent ("Insect Shield") apparel or bring mosquito repellent. I use (Affiliate Link) Avon Skin so Soft Bug Guard.
Camera
In my opinion, one of the best Hawaii souvenirs to bring home from paradise is your 📸 photos.
Towel
Dry yourself off and rub any mud off you before you get back into your vehicle.
THE JOURNEY TO LIKEKE FALLS (WITH A SHORT HICCUP)
Likeke Hike - The Easiest, Shorter Route (...but You Can Still Get Lost in Nature)
I had explored this hidden gem back in March 2012. Don't know why it's taken this long to go back and introduce it to Bill! It would be Bill's first time to hike here. From what I recall, I expected a short walk. We didn't do too much research about the hike except to confirm where to park.
As you entered the gates to the former Ko'olau Golf Course, we were greeted by the parking attendant on his golf cart. He told us to park on the far southeast side of the parking lot... looking towards the start of the trail you'd park on the right-hand, corner of the parking lot. I've heard people park outside the gates on the side of the road but could possibly welcome parking tickets there. Also, he gave us two tips: 
>#1 Left at the large water tank
#2 Right turn at the fork
🚨 Don't do what we did (...and 4 others ended up doing).
In our case, we went straight at the water tower for photo-ops, then followed it left until we saw a small opening with pink ribbons thinking let's continue to follow the trail. In retrospect, the pink ribbon we saw could've been made by a hiking club that went on a more challenging but parallel trail to the falls. 🤷🏻‍♀️ 
We ventured forward enjoying the rainforest scenery. Again, if you're walking alongside the tank, then you've already gone too far.
The first sign of doubt... Many great trails, in Oahu, include crossing streams but I was thinking, "Don't remember having to cross any stream beds back in 2012."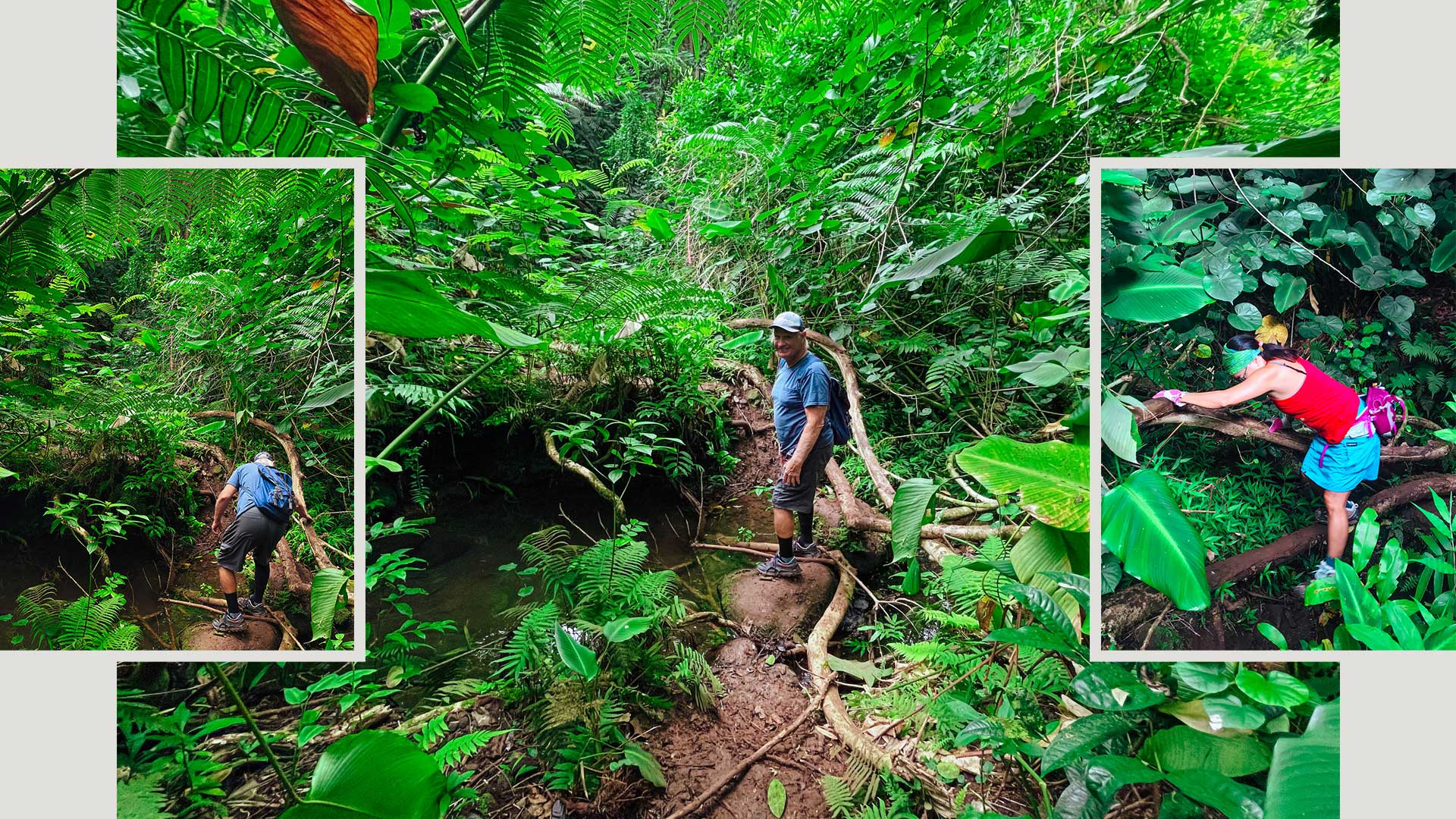 The second sign of thinking we were not on the right trail was the ropes?! I don't recall needing to go up too high in elevation. Has my memory slipped?
Is this the "right at the fork in the trail?"
We arrived at the electric poles and only saw one possible narrow trail to continue. The last straw 😡 for Bill was investigating a trail... a bit of a bushwhacking experience. I told him this was a good 💡 idea and time to go back to the start - the water tank!
He was making his way back to me and then realized the branches had stolen his backpack about 20 steps back. 🤷🏻‍♀️ He had to bushwhack back to get it since that's where our car keys were 🤣.
Hindsight: Use GPS and a Trail App
Typically, I bring (Affiliate Link) Garmin GLO 2 GPS and GLONASS Receiver with Gaia GPS.
THE RIGHT PATH HIKING THE LIKEKE FALLS TRAIL
How did we miss that?! Gotta a big laugh at ourselves. All-in-all, it was only 30 minutes of exploring the wrong path... 1 hour wasted but left with great lessons:
• Research more prior to the hike (... but where's the adventure in that?!)
• Bring GPS/Trail app combo.
• Every 10-15 minutes look backward to be familiar with what the trail looks like on the return trip.
• Take pictures of any forks and turns.
• It's always a good idea to backtrack if there's any doubt!
🔔 This was "The Left" at the large water tank. Follow this trail!
Look at this nice wide path!
Love ❤️ the tree tunnels! (I believe they were hau trees.)
I think these are cobblestones of the historic, old Pali Road.
Remember, it's okay to take breaks and stay hydrated.
🔔 This is "The Right at the Fork."
When you reach the cobblestone section, you'll hit down logs. Easy to miss the "Right Arrow" on the tree signifying the trail to the falls. On the return trek, we met a family of 6 who continued past the log on the cobblestone trail but I let them know it wasn't the way to the falls!
Around this time, we noticed the trail sits below the Pali Lookout plus we had a view of another hike - the Pali Puka Trail.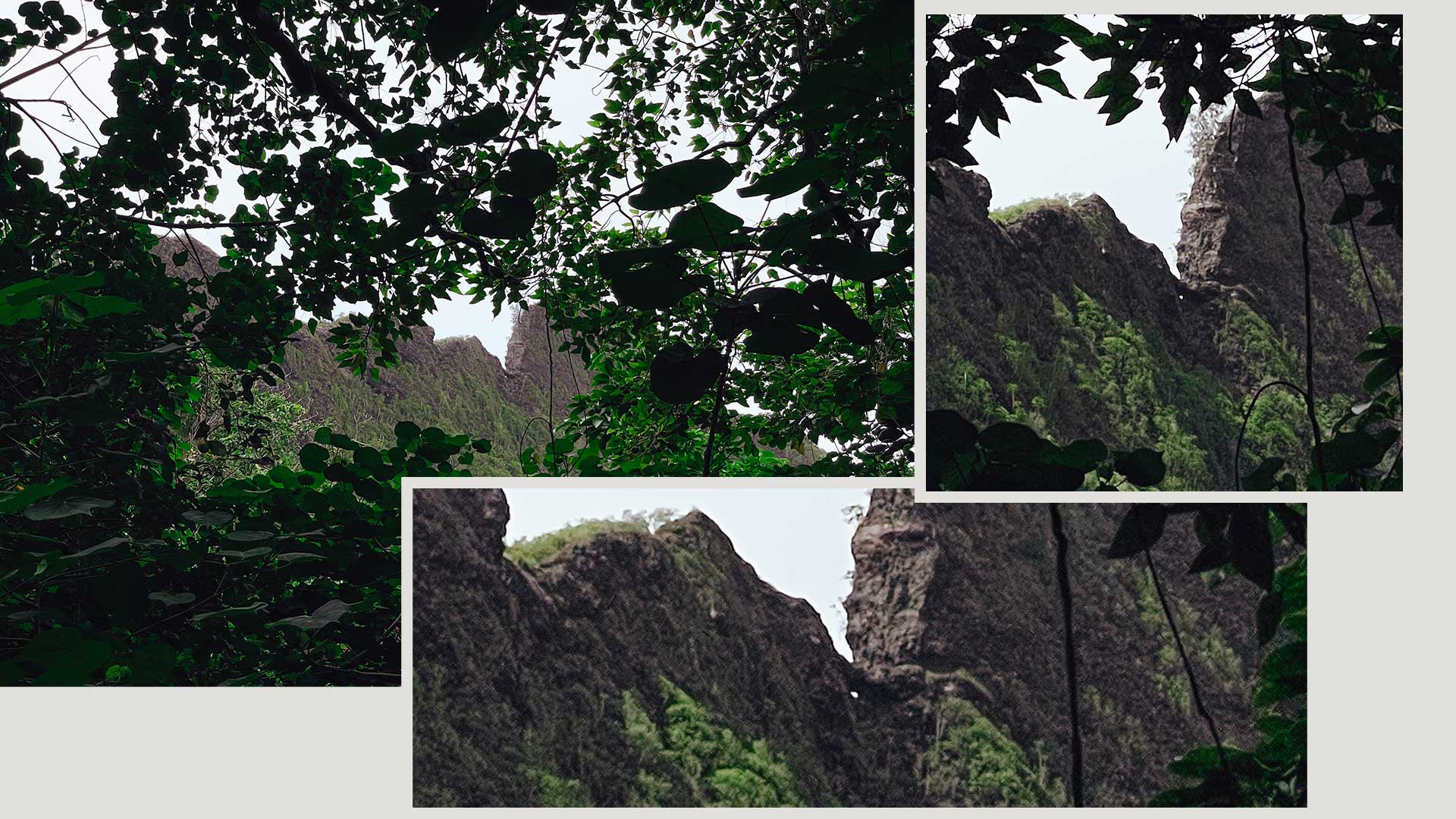 Success... we reached the falls at the end! I Time for a picnic at the falls - a banana and granola bar after a few photo-ops.
FREQUENTLY ASKED QUESTIONS ABOUT LIKEKE
Can you swim at Likeke Falls?
You can cool off in its shallow pools but not deep enough for a swim.
CAUTION: Leptospirosis is a bacterial disease common in tropical areas that can live in freshwater and mud. You can avoid getting Leptospirosis by not getting in fresh water, ponds or streams in Hawaii especially if you have an open cut or sores.
When's the best time of year to hike Likeke Falls?
The unique characteristic of the natural wonders of Likeke Falls is that it's somewhat - a man-made waterfall. The cascading waters came into existence unintentionally as workers were busy constructing the Pali Tunnels and accidentally drilled into a rock formation that held water. Therefore the beautiful waterfall is not rain-fed but spring-fed so it's flowing year-round! 
What's the difficulty level of hiking Likeke Falls?
I would say, if you've hiked Manoa Falls, Likeke Falls from the First Presbyterian Church of Honolulu at Ko'olau Parking Lot is the easy hike of the two.
Are there any scenic views or landmarks along the way to Likeke Falls?
Along the Likeke Falls trail, hikers can enjoy breathtaking views of the Ko'olau Mountain Range and Ko'olau Mountains. Native plants add to the scenic beauty. For birders, birding is enjoyable here, too.
CONCLUSION
If you want to experience the natural beauty of Oahu, with the added bonus that it's a nice short hike, Likeke Falls Trail is the perfect destination for you. This trail offers stunning views and once you reach the end of the hike, you will be rewarded with the breathtaking view of Likeke Falls.
Want more Hawaii Tips from Locals?
---