Airbnb: Belle Vista Hotel – John's Pass (Madeira Beach, Florida)
May 13, 2018
Royal Caribbean – Allure of the Seas: 7 Night Caribbean Cruise (Fort Lauderdale, FL)
September 28, 2018
Airbnb: Belle Vista Hotel – John's Pass (Madeira Beach, Florida)
May 13, 2018
Royal Caribbean – Allure of the Seas: 7 Night Caribbean Cruise (Fort Lauderdale, FL)
September 28, 2018
Historic & Culinary "Must-Eat" Tastings Walking Tour (Nassau, Bahamas)
---
---
Our first port stop on our 7-night Royal Caribbean Caribbean cruise, was to Nassau. Originally, I was supposed to jump on this food tour with mom on her 80th birthday cruise. Hurricane Irma changed our plans. Thoughtfully, Murray Sweeting gave us a credit & allowed us to reschedule - even 1yr later!
---
Why Join for Your Port Excursion
Eat like a local while exploring Nassau's atmosphere, architecture and hidden gems by foot. Rain or shine!
Meeting Point from Cruise Terminal
Christ Church Cathedral on George Street. Less than 10min walk.
Food & Cultural Tour Info
3 Hours
$69 / adult, $49 / child
Start Time - 11:30am
Discover Bahamian Culture Through Its Local Cuisine
First tasty stop, comfort food to fuel up.
Okay, I might have been anxious to let the tasting begin that I didn't even snap a picture of our appetizer. My first taste of a conch fritter. I agree with the Business Traveler's Wife – that it's like a calamari / octopus except tougher and more chewy.
Skip to the main course: "Steamed" Chicken
"Except in the Bahamas *steamed* doesn't refer to steaming with water. It means a dish cooked with onions, peppers, and ketchup (or tomato paste). " –Laissez Faire
My favorite tastings of the day!!! The chicken was so tender. And I had double helpings of fried plantains as Bill traded them for my Bahamian mac and cheese.
Local Drinks of the Bahamas
Switcha (aka Limeade) at the Bahamian Cookin' Restaurant and Bar
On this humid September day, the tour kept us hydrated. This drink reminded me our (Affiliate Link) Calamansi Juice of the Philippines, but Bahamians use key limes, water and sugar cane.
Bahama's Rum Punch - Talking Stick Bar at the Towne Hotel
Ingredients: coconut rum, pineapple juice and orange juice. Delicious!
Supposedly, Max - the hotel mascot - loves cherries.
Conch - Two Ways
Conch (pronounced "konk") is the national food of The Bahamas.
Chillin' - Conch Slider
We fed this skinny stray cat who looked like he appreciated any leftover conch.

Athena Cafe & Bar - Conch Chowder
A hidden gem located above a jewelry store on the corner of Charlotte & Bay St. You simply walk into the jewelry store then walk up the stairs to enter the restaurant.
Sweet Tooth Tastings of Nassau
Graycliff Chocolate Factory
Don't have to be a chocoholic to appreciate the yummiest chocolates we've ever had.
We would have purchased a half or full dozen of different choices, but they would have melted before getting back aboard the cruise ship.
Hand-painted delightfully, delicious bon bons. On another visit, we will have to take their Chocolate Making Tour ($49.95 / adult / 1-hr).
Family-owned Tortuga Rum Cake Company
"In 1984, while working for Cayman Airways, Captain Robert Hamaty and his wife Carlene, an in-flight supervisor, founded the Tortuga Rum Company, Ltd. They introduced the first rums of the Cayman Islands, primarily to appeal as a souvenir to the growing tourist and cruise passenger business." –Tortuga Rum Cakes
Architecture of Nassau
Paint the Town
Red

Pink

Gregory's Arch – "This stone arch was named after Governor John Gregory, who served around 1850, and it was opened to the public on January 19, 1852. When you pass through the arch going south on Market Street, you cross the line that divides downtown Nassau from the rest of the island. The small tunnel forms a picturesque entrance to the community known as 'Over The Hill' and the old settlements of Grant's Town and Bain Town." –Bahamas.com
Balcony House – "A free standing balcony gives this 18th century wooden Loyalist-style, architectural gem its name. Charming Balcony House is believed to be Historic Nassau's oldest standing residence; it was fully restored as a period museum in 1992 and appointed with stately furnishings and unique objects." –Bahamas.com
Government House – "Government House, located on a 10 acre estate, stands on Mount Fitzwilliam and is the official residence of the Governor General of The Bahamas. It dates back to 1801 and this imposing pink and white building on Duke Street is an excellent example of the mingling of Bahamian-British and American Colonial architecture. In front of the building is the statue of Christopher Columbus. This statue was imported from London in 1830 by Governor James Carmichael Smythe in honour of Columbus' Landfall at San Salvador in 1492." –Bahamas.com


A great point of view overlooking the city... you can see a cruise ship in the backdrop.
Christ Church Cathedral
"Dating back to 1670, Christ Church Cathedral is the first church built in The Bahamas..." –Nassau Paradise Island
"Christ Church Cathedral has a history of fine pipe organs that date back to 1864 when an organ made by Lewis and Sons... After nearly a century of service, having weathered the hurricane of 1929 and fire damage, the Lewis organ was retired and in 1954 replaced by a Walker Organ. In 1986, two new organs were installed, both made by the Oberlinger Company. The great organ is arguably the finest in the region. It was featured in the American Guild of Organists Journal of April 1987. It has 3 manuals, 64 ranks and 3200 pipes." –Christ Church Cathedral
Graycliff Hotel
With an interesting history, the Graycliff is not only a AAA Four-Diamond hotel, but its restaurant is one of the Caribbean's first Five-Star restaurants offering a wine lover's dream luncheon experience. Additional experiences to be had at Graycliff is at their cigar company and chocolate factory.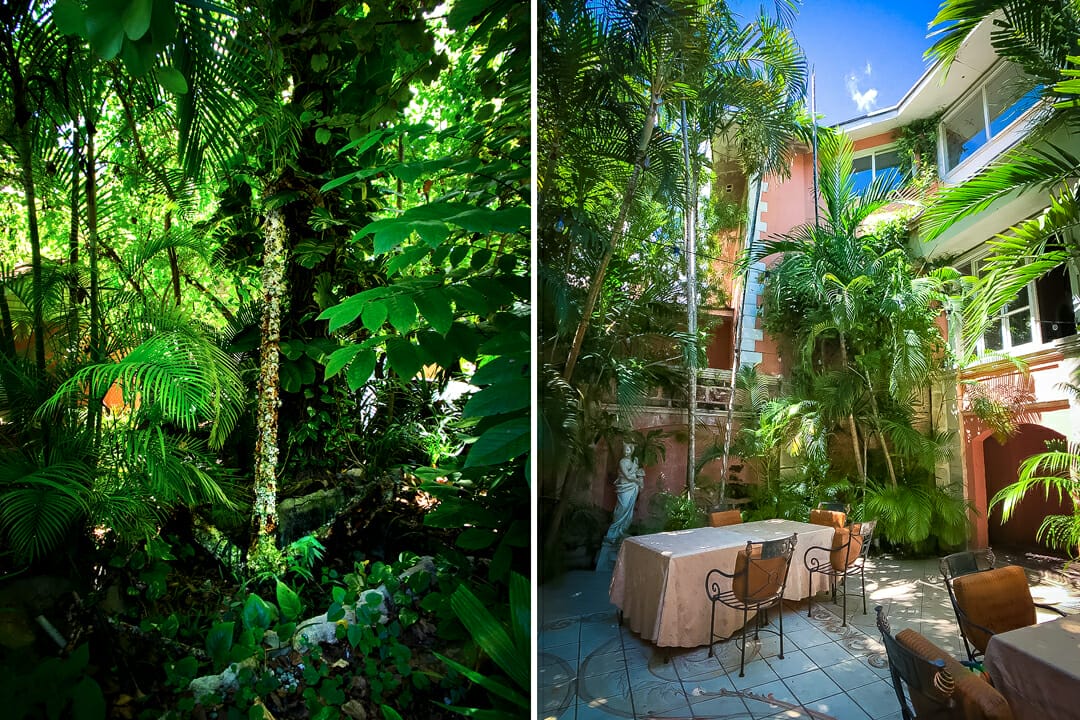 Thanks to Tru Bahamian Food Tours - specifically, Murray Sweeting and Mark (Tour Guide) for a great experience on our visit to the Bahamas! As always, all opinions are my own.