Explore Hawaii: Hiking – Hamama Falls (Now Closed)
May 30, 2013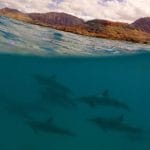 Explore Hawaii: Snorkeling with Wild Spinner Dolphins (Oahu)
June 12, 2013
Explore Hawaii: James Bond 101 Jet Pack Lessons (Hawaii Kai, Honolulu, Oahu)
---
---
I wasn't born in 1965 when Thunderball - the 4th spy film in the James Bond series starring Sean Connery as the fictional MI6 agent - came out in the theaters showing him escaping in a jetpack. Skip forward to present day, now there's a water amusement jetpack. Insane! Words to describe a Jet Pack lesson = Major Rush!
Hawaii - JetLev Adventure
The best place to experience the JetLev is in Hawaii at picturesque Maunalua Bay... warm waters and gorgeous backdrops with certified instructors to help you through it all.
Tips: Pay attention to the training video and the instructors' guidance.
Ask as many questions as you need before jumping in. They told me to sit upright as I hop in the water and find my center.
I didn't faceplant hopping in so now you have to put the key on that powers the jet pack.
Green light and the instructor has full control over the throttle... I thought I was ready. Guess not. Giggles!
If in doubt, a simple tug and pull of the wrist will release the key... just like jet skiing, it'll shut off the engine and you can start again.
The engine follows behind you. I was just paranoid turning towards it and seeing it below... I didn't want to slam down on it. Fortunately, I didn't. Phew.
Turning is fun!
Lean your head and shoulder the direction you want to turn towards... slow or sharp!
Expect turbulence throughout... bobbing up and down the water.
Once you feel comfortable and most importantly stable, you can give a wave or Hawaiian Shaka to all the spectators.
Let's Get High(er)!
What It Feels Like to Walk On Water
15 Minutes in the Water but it felt much longer. Think about the best roller coaster you've ridden. Roller Coast rides usually last 1-2 minutes. 15 minutes sounds short but it wasn't. It was just right for me. My triceps were tired! All good things must come to an end.
Ending with a Fat Smile
A fresh water bucket to rinse yourself off... feels good!
Getting Not So High with Jet Lev
Don't panic if something like this happens to you... it happened to Bill. Simply, use your arms and legs to get back upright and sit center on the jet pack.
Poor Bill was the guinea pig. He didn't have the opportunity to watch someone else in action first.
Bill really didn't want to continue after face-planting several times upon launch. But to help keep his balance, a guide hung on the back of the jet pack helping him keep centered until he got the hang of it.
Bill is starting to smile and have fun... but afterwards, he said his muscles were tense the entire 15 minute and glad he didn't quit.
---