Goodbye: Home Sweet Home in Waianae, HI
January 12, 2017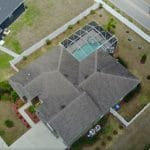 Move-In Day: Home Sweet Home (Tampa, FL)
May 9, 2017
Explore Hawaii: Hiking - Waimano Tunnels (Pearl City, HI)
---
Distance
5 to 6.1 miles (Out & Back)
Highlights
Panoramic Valley Views, Stream, Old Irrigation Tunnels...
Parking
The Waimano Trails start at the end of Waimano Home Road.
---
Today's Waimano Tunnels (Lower Section) hike was organized by the Hawaiian Trail & Mountain Club. So appreciate this hiking club to familiarize ourselves with local trails without getting lost... while meeting like-minded outdoor enthusiasts. Waimano - I believe, translates to "many waters."
From mushrooms to trumpets, the pink Philippine Ground Orchids, and what resembles a wilting octopus tree/umbrella tree (can anyone confirm that?). Beautiful flora in this forest.
Brought our headlamps. What we're here for - tunnels, tunnels, tunnels.
Much respect to those who created this fun, safe rope climb portion as it was pretty muddy and slippery on this section.
Here's we're strolling along through bamboos. We always slow down to soak in the panoramic views, too.
A rest stop after 3.5-hrs of a 6.1-mi. hike. Only 30 min to the car from this point offering breezes and a scenic view.
Another enjoyable Oahu hike!
Video Summary of Waimano Tunnel Hike